The Club
The Woodbridge CRC will be open to anyone over the age of 18. It has a constitution agreed and amended at the Annual General Meetings. The club colours are navy blue and gold which has been incorporated into the boat, rowing kit and blade design.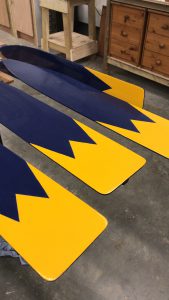 The Committee
Chair – Julian Taylor
Captain – Jacq Barnard
Secretary – Cathie Taylor
Treasurer – Andy Spencer
Bosan – Mike Pratt
Welfare Officer  – Fiona Baker
Membership Secretary – Caro Gibbins
Committee Member – Jacquie Tricker
Constitution and Rules 2022/23
The committee meet monthly to ensure the smooth running of the club. The last AGM took place on 24 October 2023 where the committee above were formally elected.
The Boats
All St Ayles skiffs are registered with the Scottish Coastal Rowing association. At the time of writing this information, there were over 200 boats registered. Whisstock, our first skiff is number 207 and Whisper is number 225.