The Club
The Woodbridge CRC will be open to anyone over the age of 18 and will be affiliated and registered to British Rowing and to Scottish Coastal Rowing. It has a constitution that will be agreed by the inaugural committee and published on this website. The club colours are navy blue and gold and will be incorporated into the kit and blade design.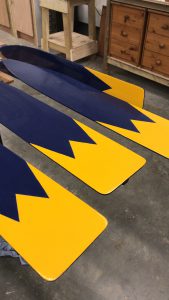 The Committee
The club now has a small committee and a number of members. The first stage is to launch the St Ayles Skiff on the 4th May and then to work out how new non rowing members can be taught to row. For safety reasons all members will be expected to demonstrate that they can launch and control the boat before being allowed to to take out groups of rowers. More information to follow. Temporary committee members are:
Chair – Mike Pratt
Captain – Julian taylor
Secretary – Cathie Taylor
Treasurer – Fiona Baker
Welfare, Safeguarding & Training Officer  – Jacq Barnard
Constitution and Rules 2019 – 2020 (agreed 25 October 2019)
The committee have been meeting regularly to put the systems and processes in place to run a BR Affiliated club. This includes writing a constitution, setting up a bank account, designing membership forms and arranging insurance as well as looking at safety and affiliation documentation. An AGM took place on October 25th 2019 where the committee above were formally elected.
The Boats
All St Ayles skiffs need to be registered with the Scottish Coastal Rowing association before they are able to take part in any events. At the time of writing this information there were 165 registered in the UK (17 USA, 10 Australia, 3 Canada, 7 Netherlands, 8 NZ and 1 in France). The nearest clubs with this type of skiff would be in Blakeney and Kings Lyn, Norfolk.